Wednesday, October 31, 2007
His is my feeling!!!! this picture do show all!!!!
From the eye
The mouth
and
the express u can see!!
Today was pretty up sad cause my Very 1st assignment for auditing 1 DID NOT SCORE FULL MARKS!!!
That really up sad me!!!!
But after hear SOMEONE in my class remark making me pek chek!!!!!
Say i selfish!!! Fine.... plz lol....my group was the 1st to hand in the assignment n that mean my assignment was
MARK
...I REPEAT!!!

MARK
So who in the right mind would let a MARK work to let other copy as it will affect my RESULT!!!!!!!!!!
Although is just a few % but still is marks....My group was 1st to hand in our assignment lol....the after teacher check le expect me LEND OUT???

O Plz lol..... If i haven let teacher mark, i would lent ...no porb BUT my was a MARK assignment that mean any mistake will be written inside lol = ANSWER!!!!!

Sometime you ppl really have to think before talking lol....
You ppl are just a

Marble Breasted Tyrant

!!!!!

spoke at : 8:47 PM
Tuesday, October 30, 2007
TRY THIS!!!! It's pretty true, well.. at least for me.
First, identify yourself as right or left brain person:
1. Hold your hands together, as if you were praying. Look at your hands.
If you see
Left thumb is below the right thumb ---> left brain
Right thumb is below the left thumb ---> right brain
2. Fold your arms in front of you (as if you are angry)
Right arm above left arm ---> left brain
Left arm above right arm ---> right brain
Based on 1+2 (order important), below is the interpretation of your personality:
Right-Right: Loves challenges type. Straightforward. Once they've decided on one thing, they'll will take action right away. Very curious, and love challenges. Dare to face dangers without thinking through (sometimes foolishly). Their weakness is that they don't listen to others, will filter in only what whey want to hear in a conversation, and very subjective. However, because of their straightforward attitude, they tend to be fairly popular.
Left-Left: Dedicated, cold, perfectionist. Very logical in all aspects. The only way to defeat (or win over) him/her is through reasons. Has a lot of pride, and feels strongly about doing the right thing. If they are your friends, they are very trustworthy. However, if they are your opponents, they will be very tough to deal with. Because they can be very 'anal' as a perfectionist, they usually leave a bad impression of being hard to deal with when first met.
Right-Left: Considerate, traditional, indirect type can instinctively read other's emotion, and respond friendly by natures. Although not very into taking initiatives in moving forward, but this person will always take a step back in supporting others. Stable personality and considerate, give others a being protected feeling. But the weakness is they cannot say no; regardless how unwilling they are, they will take care of others.
Left-Right:Likes to take care of others, leader type. Has a cool and keen observation ability to see through situations, yet still can be considerate in others needs. Because of their cool and calm nature, and strong sense of responsibility, they tend to become head of a group. Popular among people. However, they may not be able to help themselves in meddling because they want to take care of others too much. Very concerned about how others view them, and always on alert.
Hmm i am a Left-Right
Pretty TRUE!!!! ALll should try!!!!

Today been to school went to school LATE....hai late for acc pact!!!!
+ my typing skill sucks!!!
At abt 9am section head came in!!!!! lol....she wanted to see "US"!!!!!
she stay throught ang foon foon lesson lol...then she also lecture us!!! then after that did "SCOLD" some ppl.....cause wear slipper after her lecturing we continue acc pact
12pm finish school i head back home....
i went to northpoint to get my lunch n i saw mr long!!! long long long haha....
@ KFC!!!!
then after that when to per order 周杰伦CD...(我很忙)
Then after that headed back home!!!!
spoke at : 3:52 PM
Today i have went down to YCK there to book my BTT!!! FINALLY!!!! guess wat!!!! 1week from nw is my test!!! is that really FAST!!! hmm this show.... wait for 1 hour do paid off...
too slpy to continue!!!!
anyway i would like to say is....who ever i know wan to spam my blog tag board go ahead!!!!
DONT EVER LET ME FIND OUT UR IDENITY!!!!
IF i find out!!! i not going to let u off!!!!!
I will make sure u paid for wat dirty trick u did!!!!
spoke at : 10:01 PM
Saturday, October 27, 2007
ITE have organise a competition n these are the attractive PRIZES!!!!!!!
I GET into the TOP 80...Weeeeee song bo!!!!!!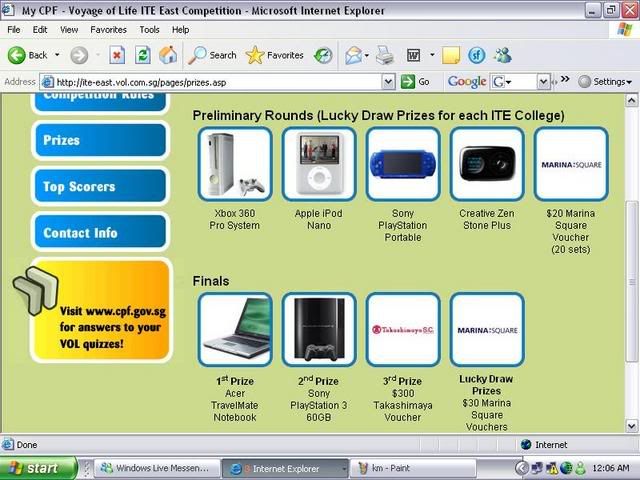 These are part of the ranking!!!! can spot my name???
It a sad thing for me cause i from 19 drop till so back lol.....then i help iris , charlotte , jin bao , serene and angeline lol...but all kana KICK OUT!!!!
WTF
hai!!!
today i went do to sunshine empire abt the "investment" thing..... for abt 1h +++
@ TPY
Then after that meet ip with jia wei we went to AMK hub shop lol....
Sian my wallet got hole sia!!!!! haha $50++ gone today lol.....
Eat = $20 i guess
Tibit = $11.95
Shoes = $20.30
OVERSPEND!!!! die!!!
sian....and high high paid job out there??? i wan !!!!!! felt so poor!!!!!!!
Hmmm tomolo got to work lol...SIAN!!!! kana sa bo wan!!!!
Hai!!!!
So have to work 2 to 10 at a low low paid job place!!!!!!!
When my $80 job start....miss the money from there lol....
Work 4 times then no more due to hari raya.... malay ppl can eat or drink ma....
So cant do any research = no work = no interview = no need me!!!!! sad!!!!
spoke at : 12:31 AM
As i have metion that i gonna upload picture during my class doing high element!!!!
I finally did photoshop it!!!
Inside got me , li ying ,serene
Hmmm i so slim haha....we are just fren !!!!!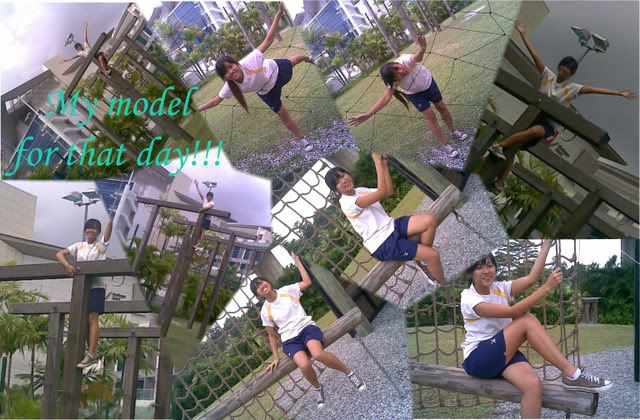 Picture will tell u summary of wat we do haha....
Lastly!!!! someone been waiting to see this!!!! haha
spoke at : 10:22 PM
Thursday, October 25, 2007
Wow!!! i So busy playing Pokemon till i so lazy to blog hahaha!!!
Hmmmm may be this friday will blog with lots of photo:)
So lazy lol....
Haven even started EXPLORE my CS3!!!! so hard!!!!! DAMD!!!

Hmmm something i really felt help other get rip some1 is it really good???
GET RIP lol.....
After helping them kana accuse of be so BAD!!!!!
Hai help like that
nv help also like that !!!
Hai Fine lol... nx time i dun wan help le.......

Hmmm being too honest really no good ma???
May be
Hmmm if being too honest will it affect a FRIENDSHIP??? i really wonder????
Hai my life is in a mess!!!!!!
Really dunnoe hw to say lol...hai remind a happy-go-luck personaity beta bah
Anyway grad nx yr.....bear it bah!!!!

Today i saw my mummy!!!!!!! ORANGE!!!!!
She back....weeee cool....
My idol mummy!!!!! :)
Currently listening to Yes 933
And tomolo not going SW cause i DONT like the replace teacher!!!!!! I HATE him.....
hai dunnoe wat to write le.....
Hmmmmm friday should be free to load pics le...cause no SCHOOL...

Back to play ruby verison!!!! i am STILL KID ok!!!!!! hahaaha
spoke at : 12:44 AM
Tuesday, October 23, 2007
hmm I am having a very very Busy LIFE!!!!!! Till no time to blog!!!!!
Anyway a few days back i had receive
My auditing Case study material!!!!!!!!
Omg look at the thickness!!!!!!

Si bei thick lol......c ready will faint!!!!!
This is just part 1!!!!
The nx part is we got to file all this into 15 DIFFERENT FILE!!!!!!
LOL!!!!!!!
hmm this happen a few days bck!!!
Today my class get to play the HIGH ELEMENT lol.....n was like no even 20 ppl turn up!!!
Anyway i kuai kia i go ok..... at there we took lots of pics lol....
Finally i have overcome my fear....But still cant overcome ALL la....partly!!!!!!Hmmm when i free will upload the photo......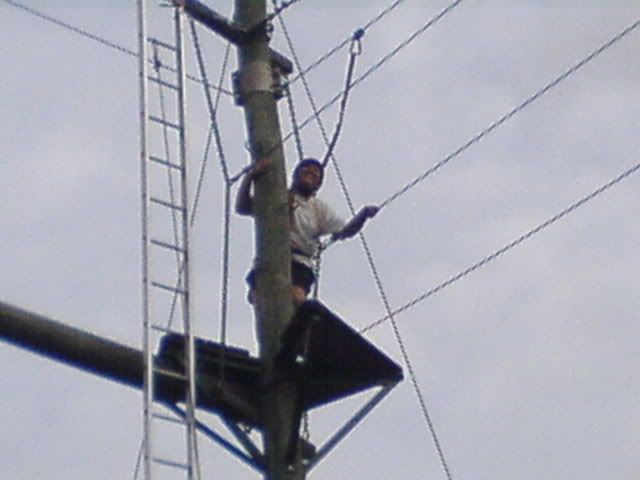 spoke at : 9:25 PM
Hmmmm so ppl may wonder he come i starting more n more not blogging often !!!!!
Simply because of School + WOrk!!!!
Sad hor cant blog lol....soommee mooorrree nw is going 12am lol...tmolo got school at 9am!!!! 7am much wake up!!!!
Hmmm soo busy!!!!!
Hmmm tomorrow gooonaa be the start of my horror i think!!! cause more n more stuff to take care!!!!!!
Hmmm si bei tired!!!!
Anyway my com seem like breaking down anyone wan sponser me haha...
off to bed!!!!
Happy Belated to CHARLOTTE..........Welcome to my 19 club haha
spoke at : 11:46 PM
Wow it had been a long time since i bloggg...
Back to blogging today.... i have no school today cause this term is 4 day school week for me....
Just 1 week sooooo many think happen lol....
1st i am the leader of my group for auditing!!!
then for AA 2 i dunnoe i again leader bo .......
Nx kana choosen to dunnoe do wat leader for a activies!!!!
Sian la....auditing leader no very easy 1 lol.... must do alot of toot toot toot suff lei!!!
Hai since i agree to take up the role i must performance well....
Hmm in school been a few leader le....
Nw outside YMCA up coming camp i am the COMMITTEE member!!!! so proud sia....
If your asking wat is YMCA camp.... go to the web c!!! it a fun n interesting camp cause is onli got ppl who have
GOOD
heart!!!!
So this is my current this yr BUSY stuff!!!!!
Upcoming still got BL lei!!!!! Oh SHiiiiittttt!!!
Sian media ic must come out with a Slide show.......Must perform well for that as this time round my mummy is around WEEEeeeee Mum is around!!!!!!
your may ask who is my mum is non other than
BL OVER ALL CHAIRPERSON
ORANGE
in summary this yr
Auditing Group Leader aka the manager of the project!!!!
School of Biz event QR leader!!!!
BL media IC
YMCA committee member
Hmmm this is time for me to perform WELL... as i am been selected to took up those heavy role!!!!! Hope i can perform to the fullest!!!!!
Nx topic...
Lvl 1 school of biz block
SPORT STUFF!!!! eg.Clothes pant FBT short and bah bah bah
all real studd as wat i am told
Guy to bring CASH to buy some stuff from CHRISTOPER!!!!
nx nx
this coming sunday at 2.30pm at SUNPLAZA RONALD mcdonald is coming!!! hui yee do take no.....
Hmmm nx nx is nx post then i up load load photo...cause school start nv go out = nv take photo... i nw take photo lookss no nice!!!!! so nv take haha
Last talk is WISH i can get in MCdonald call centre work!!!!!! May my wish come true
spoke at : 1:48 PM
Tuesday, October 16, 2007
Afew days back i received a mail from nuffnang!!!
It wrote this
Hi Oh Kai Ming,
Congratulations! An advertiser has chosen to advertise on ah-kai-aka-josh-oh.blogspot.com/. The advertisement details are as follows:
Campaign: Nike JDI2Week(s):
1. 14 Oct 2007 to 20 Oct 2007
2. 04 Nov 2007 to 10 Nov 2007
Ad Unit: Skyscraper (Top)
Please do not remove the Ad Unit from your blog during the period(s) of time above or you will not be paid the full amount for the ad.
If you have a Skyscraper Ad Unit, please ensure that it is placed high up in the sidebar or the advertiser may choose to withdraw the ad.
THIS IS A COMPUTER GENERATED E-MAIL, PLEASE DO NOT REPLY TO THIS E-MAIL. Thank you.
The Nuffnang Team
Wow that means i going to earn some money!!!!! weeeee...blogging can earn money!!!!
anyway my contact len have expired 7642123567898900 weeks back...It a daily contact len n i wear like 7642123567898900 weeks hmmm cause to save some money!!!!
On sunday i went to have a hair cut!!! Before is like tt
After



Short !!!!! sad lol............

Yesterday been to school...sad..... lol....1st day sch so many prob lol....+ so many thing happen....
First day teacher write so many thing le....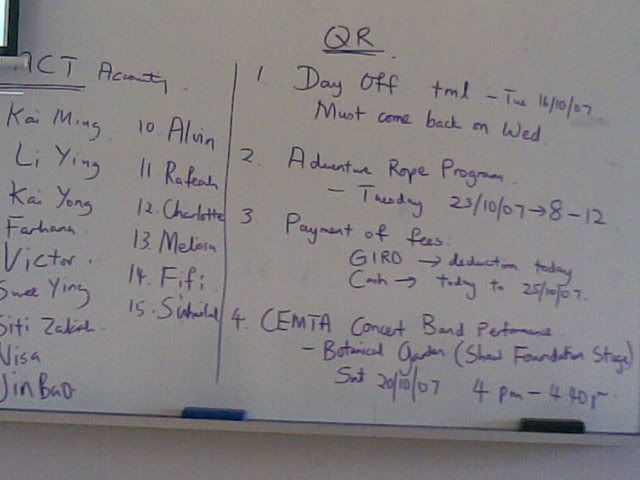 Got my name some more!!!!
i was choosen by teacher to attend the FACT lesson..... i wan one of the 15 student......hmmm hope i can do well hahahaha
These are was i brought to school...
After that in class we always fool around...n so happenly i got a pics of shu xian combing her hair!!!!!!!!

Then charlotte use my phone zi lian...


Can spot soming diff of her!!!!
Hmmmmmmmmmmmmmso bore today cause no sch.....
ALL ITE no school today!!!!!
i think i get back to play ming xin 3 0 yi
spoke at : 6:19 PM
Recently , i have blog that i going changi chalet AGAIN!!! haa haha
actually, that chalet i am like a stranger!!! cause i is acc my fren WANCheng!!! go de!!!
cause she told mi her fren say so little guy go no save + is near OCH=Old Changi hospital!!
So that meanssss i got to mix with 5 new FRENS!!!
Wan cheng fren michelle who is the 1st i met cause we together take bus go
Then nx got 3 1 shot come!!!
Wei cai
Mei hui
Eliane
The at the chalet got 2 person came!!!
1 is jasmine who i noe long long time ago n her BF SK!!!
Hmm just a few hours of bonding we i mean WE can together make out a 8 per meal!!!!!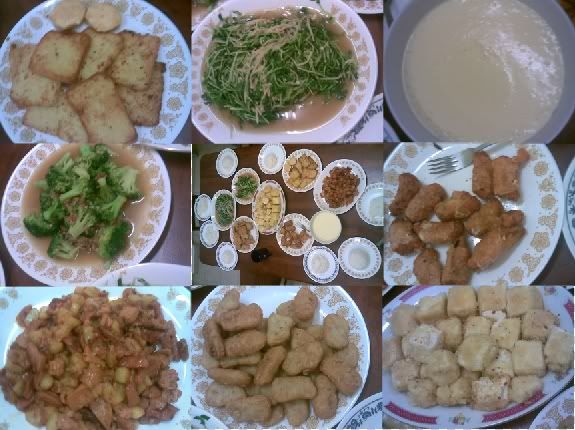 Look nice hor haha... just normal cooking like mums' cook
Hmm there seem to have lots of blogger cause all busy taking photo !!!
But onli got to take michelle take photo haha!!!! cause very rush....
After that we pop Sparking drink!!!
Done by SK

Hnmm i felt they all are good ppl haha.... nice to mix with them lol... althought just 2d1n stay , i felt that they are really nice haha!!!! anyway in chalet i lost my VOICE during night= to i c huntu i cant shout haha
Anyway wan cheng pass me the photoshop disc is so hard to use lol.....
So i any hw do until like that haha
Hmm sad lol... tomolo sch start!!! got to face my class again!!!!!!!! hmm wish my holiday faster come cause nx holiday going malacca!!! hmm planing to jio my clique go haha
they are
wan cheng
shieh hung
jia ming
kai kwee
jia hao!!!!

Will update when my trip is confirm
anyway i going to cut my super long hair le....
gtg cut hair cant blog more le!!!!!!!!
spoke at : 5:31 PM
Wednesday, October 10, 2007
Hmmm This are my advertisment!!!
feel free to press it hahaha...
spoke at : 8:08 PM
Hmm i going chalet tomolo!!!! omg again chalet haha!!!!!
anyway i gonna upload more sentosa pic nw!!!
Poor me kana bury!!!! hmmm perpare for my death????
Only me got a jump shot haha!!!!!
Arrrrrrrrr i flying haha
Mel n me!!!

Torn among ROSES????
Ambassador for 7-11??
i been out cast!!!!
This one is all 3 of us acting SOMEONE!!!!!
Will update more when i received photo from ade
spoke at : 7:33 PM