Afew days back i received a mail from nuffnang!!!
It wrote this
Hi Oh Kai Ming,
Congratulations! An advertiser has chosen to advertise on ah-kai-aka-josh-oh.blogspot.com/. The advertisement details are as follows:
Campaign: Nike JDI2Week(s):
1. 14 Oct 2007 to 20 Oct 2007
2. 04 Nov 2007 to 10 Nov 2007
Ad Unit: Skyscraper (Top)
Please do not remove the Ad Unit from your blog during the period(s) of time above or you will not be paid the full amount for the ad.
If you have a Skyscraper Ad Unit, please ensure that it is placed high up in the sidebar or the advertiser may choose to withdraw the ad.
THIS IS A COMPUTER GENERATED E-MAIL, PLEASE DO NOT REPLY TO THIS E-MAIL. Thank you.
The Nuffnang Team
Wow that means i going to earn some money!!!!! weeeee...blogging can earn money!!!!
anyway my contact len have expired 7642123567898900 weeks back...It a daily contact len n i wear like 7642123567898900 weeks hmmm cause to save some money!!!!
On sunday i went to have a hair cut!!! Before is like tt
After



Short !!!!! sad lol............

Yesterday been to school...sad..... lol....1st day sch so many prob lol....+ so many thing happen....
First day teacher write so many thing le....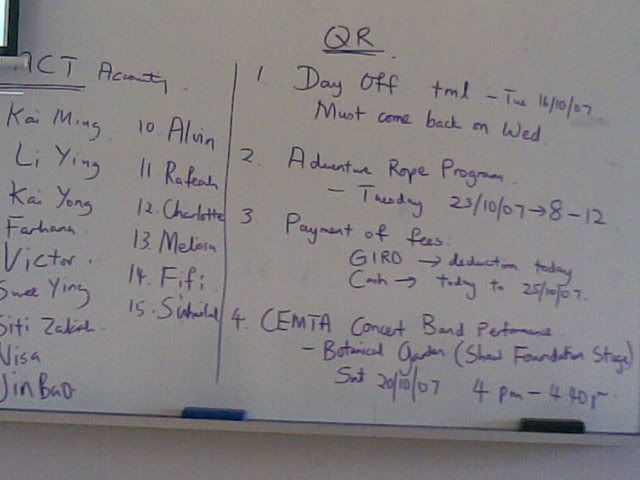 Got my name some more!!!!
i was choosen by teacher to attend the FACT lesson..... i wan one of the 15 student......hmmm hope i can do well hahahaha
These are was i brought to school...
After that in class we always fool around...n so happenly i got a pics of shu xian combing her hair!!!!!!!!

Then charlotte use my phone zi lian...


Can spot soming diff of her!!!!
Hmmmmmmmmmmmmmso bore today cause no sch.....
ALL ITE no school today!!!!!
i think i get back to play ming xin 3 0 yi