Saturday, October 27, 2007
ITE have organise a competition n these are the attractive PRIZES!!!!!!!
I GET into the TOP 80...Weeeeee song bo!!!!!!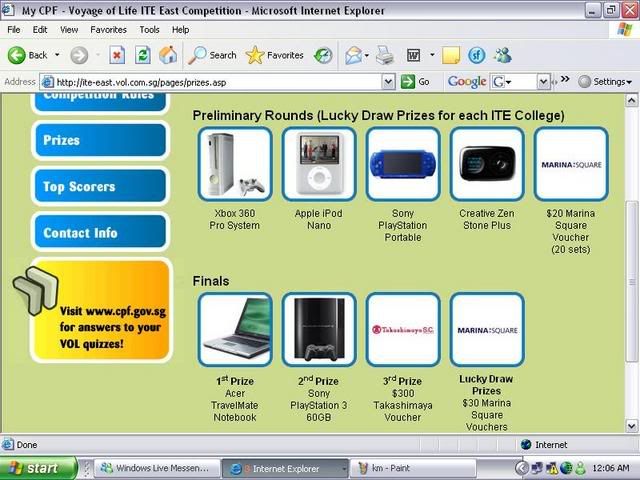 These are part of the ranking!!!! can spot my name???
It a sad thing for me cause i from 19 drop till so back lol.....then i help iris , charlotte , jin bao , serene and angeline lol...but all kana KICK OUT!!!!
WTF
hai!!!
today i went do to sunshine empire abt the "investment" thing..... for abt 1h +++
@ TPY
Then after that meet ip with jia wei we went to AMK hub shop lol....
Sian my wallet got hole sia!!!!! haha $50++ gone today lol.....
Eat = $20 i guess
Tibit = $11.95
Shoes = $20.30
OVERSPEND!!!! die!!!
sian....and high high paid job out there??? i wan !!!!!! felt so poor!!!!!!!
Hmmm tomolo got to work lol...SIAN!!!! kana sa bo wan!!!!
Hai!!!!
So have to work 2 to 10 at a low low paid job place!!!!!!!
When my $80 job start....miss the money from there lol....
Work 4 times then no more due to hari raya.... malay ppl can eat or drink ma....
So cant do any research = no work = no interview = no need me!!!!! sad!!!!
spoke at : 12:31 AM