Thursday, November 08, 2007
A few days back i chat with sarip on msn n 1 problem that both of use face is
ME---Say he steal serene picture from her blog!!!
He--- Wondering hw come i say that!!!
Hmmm after i
SS n sent it to him, he was super damd shock to see
MY msn REFLECT HIS DP IS SERENE!!!!!
From the view point of my msn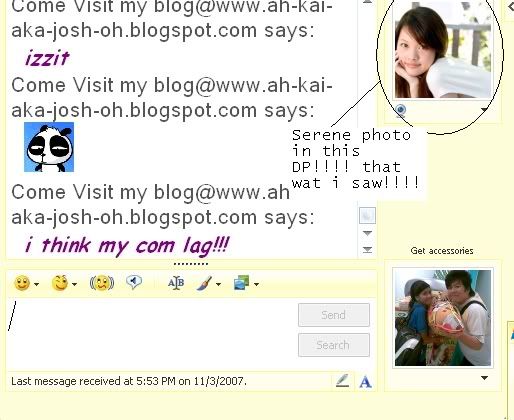 From the view point of him!!!
I was pretty shock with he told me lolsss... seem like my com going to be sot very very very the soon le lol......will it be the hint of my com going break down???? omg.....like that i cant blog le will be damd sad lol......
Today been to mac to work!!!! DOUBLE paid ma...so work long long hourss
hmmmm si bei tired sia.....
Nw craving to go K BOX!!!anyway wan go???? jio me hahaha....i love to sing hahahaaha......
spoke at : 5:56 PM