On thurday there was SW lesson...but sadly not a lot ppl turn up!!! Abt 11am+ i meet up my group to finish our petty cash record for AA de then head to auditing lesson!!!!
That day i 1230 like that left the class as i have a competition in school called money sense!!!!
I was in college east rank 74 lol.... 7 more i am out!! n i thought that com is per college!! to my horror i found out that there are 240 ppl in this com !!! include me!!!! n 240 ppl fight for onli 13 prize!!!! wth!!!! if i noe that before hand , i wouldnt have been so siao in this com!!! cause got money lei!!!!! anyway i was issue this UGLY TAG lol....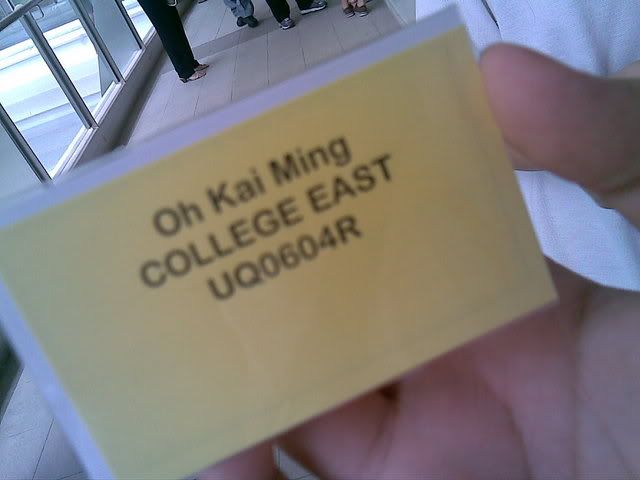 LOL.....College east wo!!!! can ur have some class??? haha!!!!
Then i try to match with my bages!!!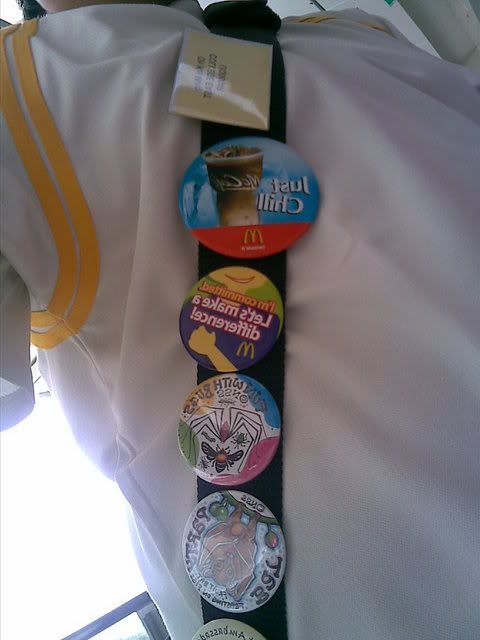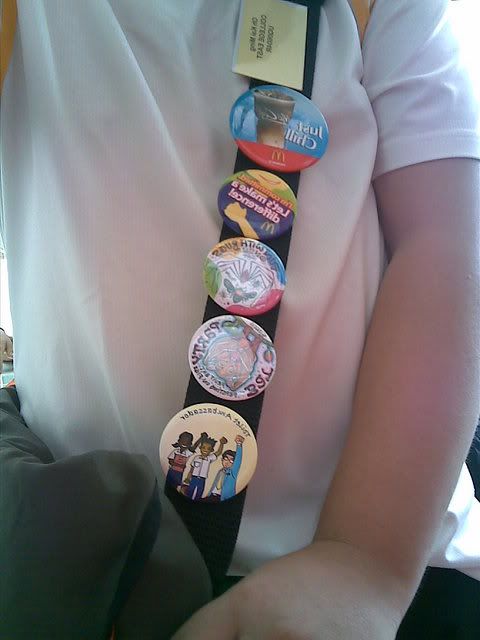 Eeeee it spoil the image!!!!!!!
anyway i did not win that com..... but!!!!
all of us like jump in to yellow river lol....
cause they wanted ALL of us to go to Auditrum lol!!!! is like FORCE.....WTH...
But i manage to jia bo!!!!! hehe i smart beh!!!! then i went to go find belinda!!! she told he BL got a present for me!!!! wow a present!!!!! n i waiting for her like 30 min +__+
then she pass me a big big big present!!! inside is a big...no bad la.... haha at least a media ic for BIZ and college lvl got present!!!
Then i walk out school saw ayu , swee ying and farhana!!! they going town go i folo!!!!
We went to far east then walk walk walk... cause ayu finding her DREAM slipper!!!
then we walk walk walk n in between far east n tang plaza there a newly build tunnel n inside the tunnel got a room like very trendy 1 lol...so we went in took ton of picture!!!!!
Behind the sence of that picture!!!!
Me with my PART TIME GIRL FRIEND / WIFE / PREVIOUS WIFE


Oppzzzz someone drop something!!!!
The Affair BED

Me , Ayu and farhana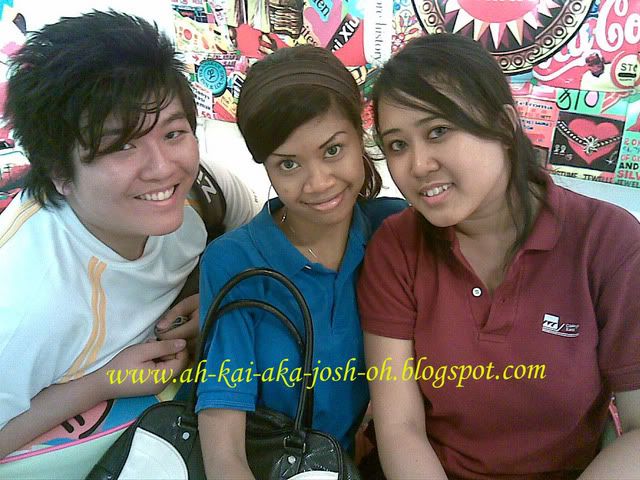 That last photo i took inside there!!!!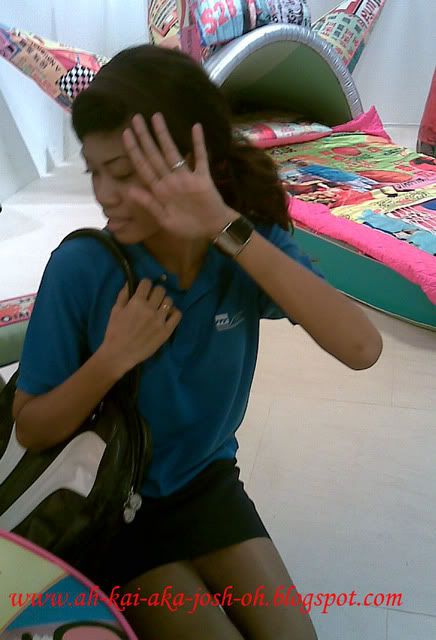 On the way to orchard MRT station i took some picture again!!!!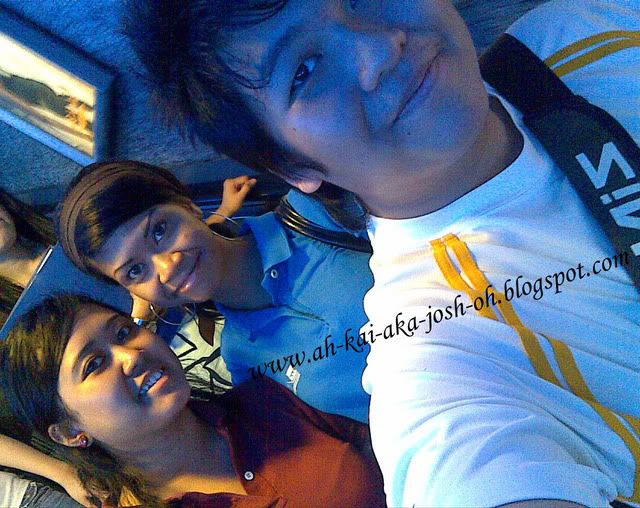 After that i head back home 1st due to having a meeting at dhoby ghuat.... it the Y camp meeting as i had wrote b4 that i am the committee memeber!!!!
i reach home abt 5.... n i was DAMD tired!!!!! i slack a while b4 i back then i ate my dinner then headed down to northpoint 1st cause i go claim my GV memebership card!!!
and it look pretty cool......


nice rite?? is a card.......
then fron there i told MRT down to dhoby ghuat!!!!
GUESS WAT
At yishun i waiting nearly 10 min before the train CLOSE THE DOOR!!!!
the it reach YCK it stop before reaching AMK ....then when it reach AMK it STOP for another
10 min i guess!!!!! then it move down to bishan then on the way in the tunnel to bardell....it STOP AGAIN!!!!! n i keep hearing the that " the mrt railway have problem bah bah bah" so by the time i reach TPY it abt 715!!!!!!!
that mean from yishun to TPY the time travel is 45 minute!!!!! my god!!!!
i was pretty piss off...so i alight from TPY n i saw a banner outside say Newton to Marina Station WILL BE CLOSE FOR 1 hour!!!! OMG it perk period man!!!! some more i am late for my meeting!!! suppose to reach by 7 ended up like that lol.... so i quickly go take 31 go boon keng mrt station then headed down to YMCA...by the time i reach there is 8 pm ....so PAI SEI lol....
ALL THANK TO SMRT FOR MAKINGME LATE!!!!! THANKS~~~~